We believe that 3D Printing will change our world
Combine metal powder and imagination - and a world of new inventions will open up.

Metal Powders
The choice of metal powder for 3D printing should match the your specifications for the product such as strength, heat resistance, surfaces. Our maximum printing capacity is 250x250x280 mm. We can produce tolerences down to 0,1mm.
We offer the following materials for metal printing:
Nickel based alloys, Inconel 718, Inconel 625, Haynes 188
High grade tool steels, 1.4404, 1.4828, 17-4PH, 1.2709
Aluminium-silicon alloys, AlSi12
Titanium alloys, TiAl6V4
Iron-nickel alloys, 1.3912 (Invar)
Maraging Steel, 1.2709
Stainless Steel, 1,4542
Bronze, DM20
How it works
3D Printing or Additive manufacturing is the technology where the part is built by adding thin layers of material on top of another. It is fast and effective and with these individual layers and any geometric shape can be made without cutting. It is all based on a 3D CAD model of the product, from which the laser melts exactly the area being added. These individual layers and this additive process differ from other types of manufacturing such as molding, forming and machining – all of which remove or shape material.
Thürmer 3D Print works with Laser melting.
DMLS – direct metal laser sintering
SLM – selective laser melting
SLS – selective laser sintering
Benefits
3D Printing has several advantages over traditional manufacturing methods.
To give an idea of the opportunities:

Freedom of design - complex structural shapes
Ease in producing prototypes and customized parts
From design to production with few production steps
No material waste - since material is added instead of removed
Fleksible development phase
Fast production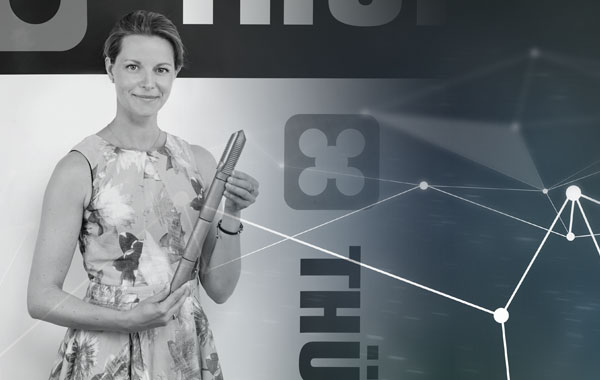 Innovation with a purpose
The world is facing challenges that call for innovatives solutions - solutions that can challenge the boundaries of what is possible. We believe that 3D Printing is the future and that many of our conventional manufacturing techniques will be replaced with disruptive technologies.

We are moving away from tool-based static methods of production in favor of the generative and flexible production methods that 3D Printing allows. We can rapidly respond to our costumers wishes and with custom produce parts and components and offer our technical expertise to anyone who is interested in metal 3D Printing.

By embracing this technology with an open mind and share our knowledge, we believe to have the key to make a successful business in the era of the Industrial Revolution 4.0.

We aim to be at the forefront of the development of the next generation of cutting tools using the new designs and materials which 3D Printing allows. With the increasing demand for customized tools, we intend to define the cutting solutions for the next decade.

In February 2016 we were accepted for the Scion DTU program "Smart Innovation". Our focus is doing research in cutting tools with optimized cooling. In combination with the overall structure we can improve both the efficiency and the durability of the tools. On top of that the tools are lighter and remain as strong if not stronger than the tools produced today. We will be working in collaboration with Danish Technical University of Denmark, DTU for the next 6 months.